Booking Men Singing Carols For Your Holiday Event
Hiring the most charming holiday vocal entertainment in New York City is much simpler than tying a bowtie*! Our company has been making it an easy, three-step process since we got started in 2009, and we've got it down to an art. Read on to see how this all works.
* Although, our Tenor II Jeffrey likes to show that he can tie one without even looking, like you see below. Now that's skill.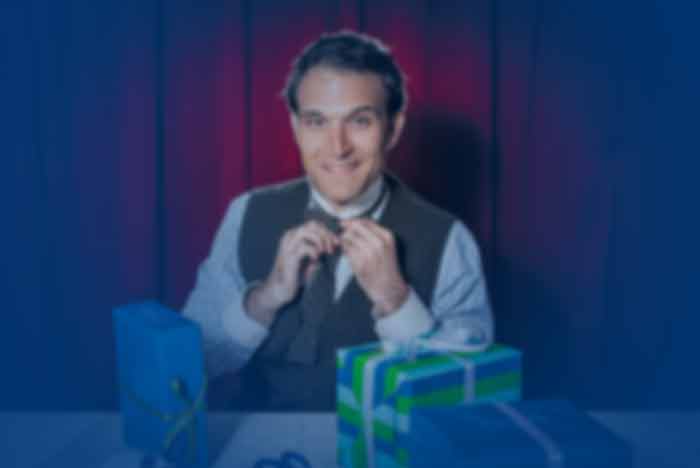 Step One: Check Availability & Get an Instant Quote
First, use our interactive online calendar to see if we have Men available for your event's day and time. With our integrated online reservation system (programmed by our creative director), the calendar's updated in real-time -- so it's always got fresh information about our availability.
Then, use our Quote tool right next to the calendar to get your estimated cost. Keep in mind that half hour bookings are only available in Manhattan. Also, bear in mind that if we've got to travel out of the city, there will be an additional cost for travel, such as any car rentals, train tickets, and the time we spend getting to your event.
Step Two: Lock In Your Rate
Submit your booking request to us through the Quote tool, and we'll review & get in touch with you if needed. Once everything's set, we'll send out your booking contract. Our booking/engagement contracts are very clear and precise, and spell out exactly what our group will be doing for your event, the payment schedule, any requirements we have and notes you've given us, cancellation policies, etc.
Just return the signed contract with your deposit. We'll counter-sign and send to you either via email or fax -- your choice. With that, the business side of things is done for now, and we turn to our favorite part -- creative!
Step Three: Event Planning!
Once we have your signed contract & deposit, we activate your event in our online event management system, and you'll receive an email with a link you can click to view it. You and our Creative Director, Greg, touch base about your event so he can get a sense of the mood of your event, your guests, the space, any song content requirements, etc. We use this to craft the perfect setlist for the time allotted at your event. We'll then put together the first version of your setlist, viewable on your event page, and as Men get assigned to your event you'll also be able to see their pictures!
And, you can edit the setlist yourself, too, if you like, using a similar list like you see on our song list, simply by dragging & dropping songs to add, remove, or reorder them.
Step Four: There Is No Step Four!
On the day, we show up plenty in advance of our start time, handle any outstanding billing, and then you and your guests relax and enjoy our performance!
You can choose to be as involved as is convenient to you during all of the planning. Some of our happy customers want to be deeply involved throughout the entire process, editing set lists themselves, offering feedback and notes, and more. Others opt to let us handle all of the choices around the set and song order, based on their feedback and preferences. We can work with either approach with no difficulty, or any combination. Either way, we hope you'll be enjoying our wonderful voices & songs soon!